Our gateway for your innovations!
The Emerging Technologies Programme (ETP) is intended to act as a bridge between the CAA and our emerging technologies aerospace and aviation stakeholders.
The Emerging Technologies Unit (ETU) aims to provide the most effective ongoing regulatory interface possible, while enabling the safe and effective integration of emerging technologies into the civil aviation system. By facilitating safe and secure use of new technologies, the unit will support the government's environmental and economic objectives.
What is an emerging technology?
'Emerging technology' is an all-encompassing term that refers to any aviation capability that:
has not been certified or approved before,
is novel,
is not routine, and,
is not limited to unmanned aircraft.
Here are just some of the many areas that this encompasses:
What you can expect from the
ETU
The ETU collaborates with innovators in the pre-decision making phase to ensure quality of new applications and maintain a view over the horizon to the next phase of development for existing participants. We project manage complex applications and, if necessary, explore new processes for certification. We take a systems-based approach that may be technologically agnostic, but includes all the components of capability.
Some of the benefits of engaging with the ETU team are:
Applicants from non-aviation backgrounds will gain a better understanding of aviation regulations, how approvals to operate occur, and how they can navigate the aviation regulatory system.
By definition, emerging technologies haven't been approved before, so often there is no set pathway to certification, or they fall in the cracks between rules. The

ETU

can help to map out the pathway(s) you might explore by piecing together existing frameworks.
Traditionally, safety regulators are unable to collaborate with the innovation sector due to the clear ethical boundaries required. But

ETU

staff do not make certification decisions and have the remit to work with you to identify regulatory solutions for your innovations.
Working relationships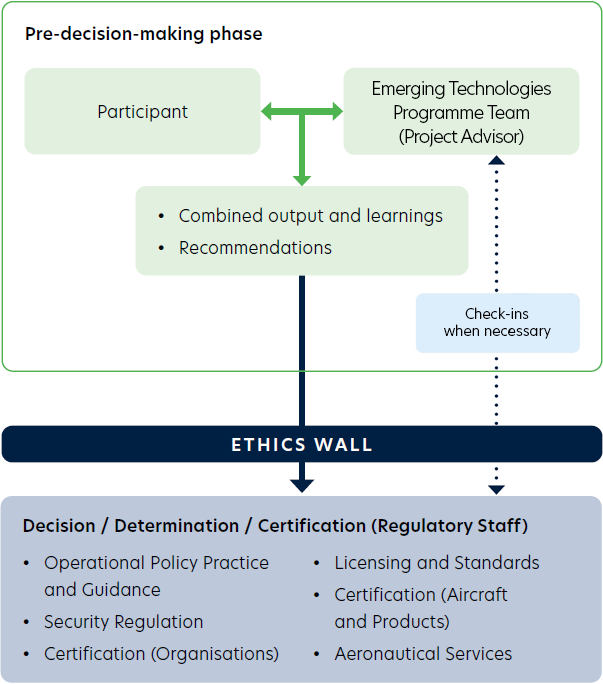 If you're an innovator or operator interested in entering the aviation system, please contact us.