Since December 2020 the flight training safety strategy has aimed at improving the safety performance in the flight training sector, focusing on five areas of interest:
joining and circuit procedures
cross country training
situational awareness and threat and error management
instructor training, experience and supervision
English as a second language
As part of our work on addressing these five areas, we're presented a series of online presentations in February and March 2022 focusing on the standard overhead join in addition to introducing a new practical flying guide on visual navigation.
Joining and circuit procedures
In the two years to mid-2021 there was an increase in reported near miss events within the circuit, with 153 occurrences and 98 of these requiring avoiding action to prevent a collision.
Data and causal analysis revealed a number of common factors in these events:
flying the standard overhead join incorrectly
joining non-standard
not conducting an effective look out
poor situational awareness.
These events are not just occurring with training aircraft, but across general aviation (including microlights) at unattended aerodromes.
Standard overhead join video
In collaboration with flight examiners and training providers, we've produced a Good Aviation Practice video to provide guidance on how to execute the standard overhead join at unattended aerodromes to help reinforce standardisation of good practice. It has been designed to be used as a training aid with the video reinforcing:
The standard overhead join isn't just a training manoeuvre and it's not just for student pilots; it's a procedure all pilots should be able to undertake when appropriate.
We wish to thank industry Flight Examiners Daryl Gillett, Paul Kearney, and James Hillson and South Canterbury Aero Club CFI Aaron Pearce in helping us put this video together.
If you have any questions regarding the content of the material produced, please contact the CAA, your local Aviation Safety Advisor or discuss with your Flight Instructor.
Practical Flying Guide on visual navigation
Following an increase in cross country related occurrences and accidents the CAA has produced a Practical Flying Guide on visual navigation, designed to provide practical guidance for all pilots when conducting cross country flights. The material addresses the importance of thorough planning, workload management, division of tasks and prioritisation.
Where can you get further information?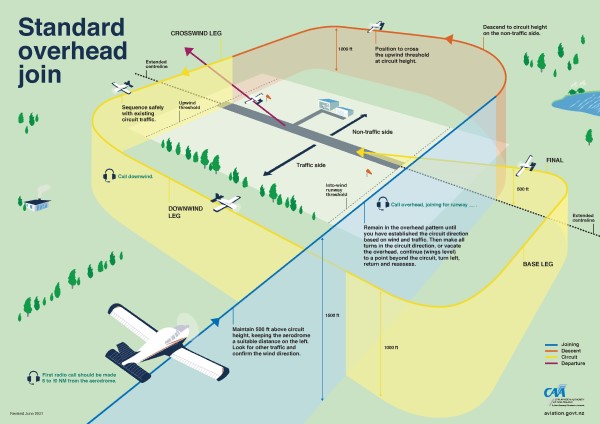 Pilots in the first instance should contact their local instructor if they require further guidance on how to conduct a standard overhead join.
We also have a number of useful resources:
CAA flight instructor guide - Vacating and joining at aerodromes
CAA standard overhead join poster [PDF 347 KB]
CAA standard overhead join (right-hand pattern) poster [PDF 148 KB]
Safety message: Non-conformance with uncontrolled or unattended aerodrome circuit procedures can be fatal [PDF 476 KB]