Helicopter safety resources
Additional information about helicopter safety.
The sector risk profile (SRP) approach provides an ideal methodology to work collaboratively to explore the safety risks of this sector and to implement new or enhanced ways to manage these risks.
This SRP includes those operators holding Part 135 certificates (helicopter and small aeroplane), and any other certificate holders, organisations, individuals or parties working with or providing services for such operations.
A significant number of New Zealand helicopter accidents are performance-related. Most of them occur during take-off or landing – the remainder are associated with external load or confined-area operations.
This GAP booklet examines the factors affecting performance and provides guidance for pilots.
A presentation on inspections and safe use of lifting equipment, updated in March 2022.
Covers the operational parameters of heliskiing, the aircraft operation and flying environment, and common hazards along with processes for mitigation.
Whether winter conditions are present because it is winter, or because you're flying at higher altitude, you can encounter 'winter flying' at any time of the year in New Zealand. Whether flying fixed-wing or rotary VFR operations, your preparation may be all that stands between you and harm.
This GAP booklet provides a brief introduction, or maybe a refresher, on good safety practices for colder conditions.
A helicopter accident in Arnhem Land highlights the risks to VFR pilots of flying after last light, and the potentially fatal consequences of survivable accidents in remote locations, an ATSB investigation report details. (External link to Australian Transport Safety Bureau.)
Safety messages
Safety around helicopters DVD
This DVD is ideal for your passenger safety briefings because it is designed for everyone who works around helicopters, especially non-aviation passengers. The Introduction has information for everyone, and there are separate modules on:
Industry;
Going bush;
Corporate and tourism;
The mountains;
Rescue on the land;
All at sea; and
Helicopter identification.
You can order your copy from Video New Zealand(external link).
Safety around helicopters poster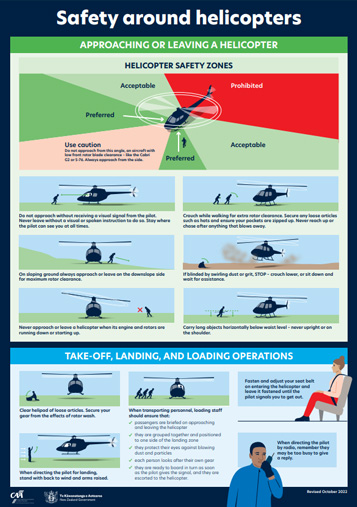 Safety around helicopters [PDF 821 KB]
A2 and A4 sizes
Revised October 2022